Briefing: An overview of Home Office policy for Ukrainian refugees
22/05/2022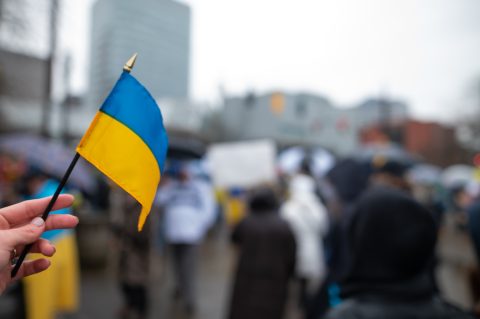 Since Russia invaded Ukraine on 24 February 2022, the UK Home Office has announced numerous policy changes to deal with the stream of refugees fleeing Ukraine towards Europe. This stream of ever-changing information can be confusing and overwhelming. We try to sum up the different policy proposals in this post, with the caveat that they may change, as they have before until now. Always check whether information is still up to date by checking the government website, or contacting us directly. We deal with protections under the Ukraine Family Scheme, the Homes for Ukraine Scheme, and for Ukrainian nationals currently in the UK.
The starting point is that there is no open border for Ukrainian nationals. They need to apply under one of the schemes or systems established under the immigration rules, like all other visa nationals, to enter the UK.
1. The Ukraine Family Scheme
As it stands, this is for Ukrainian national family members of British nationals / settled UK residents / pre-settled status holders / refugees or persons with humanitarian protection.
Initially, Home Secretary Priti Patel gave a statement on 28 February 2022, announcing the creation of something she called a "humanitarian route" for fleeing Ukrainians, that could potentially benefit up to 100,000 Ukrainian citizens. Once details of this route came to light, it turned out that only Ukrainian nationals who were close family members of British nationals were eligible. The statement was widely perceived as unclear and misleading, and the policy as restrictive. Since then, the Home Office and Home Secretary have been under increased pressure to help those fleeing conflict and seeking refuge in the UK. The humanitarian route was expanded; it now allows extended family members to come join their settled family members in the UK. So, on the one hand, the applicant pool has been widened from close to extended family members, as long as they are Ukrainian nationals. On the other hand, the person currently living in the UK based on whom the application is made (the "sponsor") no longer needs to be a British national; it is enough if they are living in the UK with indefinite leave to remain, settled or pre-settled status under the EU Settlement Scheme, humanitarian protection, or refugee status. The normal family visa requirements of the sponsor having a minimum income threshold and the applicant having English language proficiency are waived, as is the normal requirement to obtain a tuberculosis certificate.
Up until 10 March the Home Office maintained that all eligible family members must submit online forms and attend biometric appointment at visa application centres in order to complete the application process. Only then can an application be processed and a visa issued. Due to intense political pressure citing the lack of available biometric appointments at visa centres, and possibly the low number of visa being issued compared with applications made (4000 visa as of 13 March out of 17,000 applications made), the Home Office announced that Ukrainian nationals with passports will be able from 15 March, to submit an online application to be processed and – assuming a visa is granted – they will be able to enrol their biometric information after they have arrived in the UK. For those Ukrainian nationals who do not have a passport, they must continue to attend overseas biometric visa appointments with alternative identity documents (for example a Ukrainian national ID card), to complete the application process. These centres are located across Europe, including Poland, Hungary, Romania and even France. It has been pointed out to the Home Office that Ukrainian nationals without passports are likely to be the most vulnerable refugees – women, children and older citizens – fleeing the violence in Ukraine. These refugees do not present a security threat and are the most in need of having overseas biometric enrolment waived. In response, the Home Office repeats security concerns as a justification for requiring overseas biometric visa enrolment.
Those who are granted visas under the scheme receive permission to live in the UK for up to three years with the right to work and claim public benefits. There is no explicit mention of a path to settlement in the long run.
There is no cap on the numbers of Ukrainian nationals who can apply under this scheme as long as they can demonstrate their family relationship to a UK sponsor and meet the suitability conditions (this means that any applicants with criminal records may be prevented from benefiting from the scheme). The UK government has stated around 200,000 Ukrainians could benefit though this scheme (and the humanitarian pathway scheme), though there appears to be no source for this figure.
2. Homes for Ukraine Scheme
As it stands, this is for Ukrainian nationals outside the UK without a connection to a family member in the UK.
The initial Home Office policy announcement on 28 February was criticised for not included any provision for humanitarian / refugee assistance to Ukrainian nationals displaced by the conflict who had no connection to someone in the UK. In response, the Home Secretary announced that the Home Office and the Department of Levelling Up, Housing and Communities would be creating a sponsored humanitarian pathway for displaced Ukrainian nationals, to be sponsored by individuals.
On 14 March the Secretary of State for Levelling Up, Housing and Communities gave a statement to the House of Commons setting out some of the details of the proposed humanitarian route that has been named Homes for Ukrainians. The basis of the scheme would be that UK residents who have at least six months or more immigration status would offer their homes or other accommodation to Ukrainian nationals, residents of Ukraine and their families to come and live in the UK.
The accommodation offer must be for a minimum of six months; the government encourages the offer to be longer than this where possible. The government will pay £350 per month to sponsors who take in refugees under the scheme. Note that the £350 is a fixed rate and does not increase if more persons are sponsored.
Those who are granted a visa under the scheme will be allowed to reside in the UK for three years, can take up employment and have full access to public benefits. In order to safeguard those under the scheme, sponsors are subjected to a vetting process – though it is unclear what this entails. The government stated that it would not be a full DBS check, and that local authorities will be charged with safeguarding those who have come to live in the UK under the scheme. Central government has committed further funding to local authorities to carry out this. Additionally, those being sponsored under the scheme will also have to pass a security check – again, it is unclear what this entails.
Phase one of the scheme is limited to individuals who wish to sponsor Ukrainian nationals and their families. This means that at the present time, charities, businesses, and community groups cannot act as sponsors under the scheme.
On the same day that the statement was made to Parliament (14 March), a government website went live to allow for expressions of interest from individuals who may wish to act as sponsors. The online registration form crashed early into the launch which indicated large numbers of individuals were seeking to sign up. It is reported that over 100,000 UK residents have expressed interest in helping under the scheme. There was no precise timeframe given for the additional phases of the scheme to open and therefore it is not known when charities, businesses, and community groups will be able to register as sponsors. During the debate, the Scottish National party confirmed that the Scottish government wishes to act as a "super sponsor" meaning that more significant numbers of refugees could be sponsored to come to Scotland. The Welsh government has made a similar commitment however, whilst expressing gratitude for the offer from the devolved nations, it was unclear whether the Secretary of State committed to enabling the Scottish and Welsh governments to act the super sponsors.
The NGO sector has responded to this statement, stating many concerns with the policy. The main issue is that using a sponsorship scheme limits the numbers of Ukrainian refugees who will benefit. The bureaucracy involved and the significant safeguarding that must be put in place between sponsors and those being sponsored form hurdles that prevent eligible individuals from receiving protection. Additionally, over 6 million persons have now fled from Ukraine due to ongoing violence; it is unlikely that a volunteer-based approach such as the Homes For Ukraine Scheme will provide enough spaces or support for the massive influx of people in need of protection.
3. Ukrainian nationals inside the UK without family members who can sponsor them
The Home Office has not created any new specific humanitarian or immigration routes for Ukrainian nationals who are already present in the UK. However, any Ukrainian nationals who meet the family relationship eligibility requirements of the Ukraine Family Scheme can make a free application under this scheme. For those who do not have UK based family sponsors, the Home Office has removed the switching conditions of many visa routes to allow Ukrainian nationals in the UK to apply for permission to remain without having to undertake the normal process of leaving the UK to apply for visa permission to return. Thus, those with existing visas (including visit visas), can apply to extend in any available immigration route without needing to leave the UK (e.g. under the Ukraine Family Scheme, skilled work, student routes). Visa fees and Immigration Health Surcharge will still be applicable for those extensions, unless the applicant switches into the Ukraine Family Scheme. Additionally, those on temporary working routes (seasonal work, HGV drivers, pork butchers) will automatically have their immigration permission extend free of charge until 31 December 2022, but they cannot sponsor family members under the Ukrainian Family Scheme. As a consequence, they face the choice of remaining in the UK without their families or attempting to reunite with them outside the UK. The Home Secretary hinted that this issue is under review.
Finally, those who do not meet the criteria of another immigration route can still apply for asylum / humanitarian protection. The controversial Nationality and Borders Act, about which we have written before, passed and became law on 28 April 2022, meaning that under its provisions, Ukrainian nationals who enter the UK unlawfully and claim asylum will in principle be deemed inadmissible and they will be unable to apply for asylum.
For all of the above paths to safety, the onus is on Ukrainian nationals present in the UK to utilise existing immigration routes and prolong their stay in the UK, except for those on temporary visas.
4. A note on visa requirements
Ukrainian nationals traveling to the UK remain visa nationals. From 15 March, Ukrainian nationals with a passport can apply online and enrol biometrics on arrival in the UK. Those without a passport (i.e. have national ID card) need to enrol biometrics at a visa application centre; this, as many NGO's and professionals in the field, forms a huge barrier for those in desperate need of protection. According to Home Office statistics, as many as 90% of Ukrainian passports do not have a biometric chip and therefore, the Home Office scanning app cannot be used to verify their identity. They would also have to use a visa application centre. There are no functioning visa application centres in Ukraine and therefore most applications must be made through neighbouring countries such as Poland, Moldova, Romania, and Hungary. This approach could push Ukrainian refugees to attempt to enter the UK through irregular means raising the risk of exploitation by criminal smugglers, and, following the Nationality and Borders Bill in its current form, criminalisation by the UK.
The policy position to require visas before travelling to the UK is predicated on the protection of UK and the need for security checks to take place outside of the country, before allowing Ukrainian nationals to travel to the UK. Reference has been made in debates to persons posing as Ukrainian nationals to try enter the UK, and to the 2018 Salisbury Novichok poisoning. During the Parliamentary debates, the Home Secretary's attention was repeatedly drawn to the EU decision to remove visa requirements for Ukrainian nationals fleeing the conflict, with critical MPs arguing that the UK should follow its EU allies and apply a similarly generous approach. It was also noted that as Ireland has removed the visa requirement for Ukrainian nationals to enter, Ukrainians are effectively able to cross the border between the Republic of Ireland and Northern Ireland in the UK without a visa. Many government MPs have used their "question" in parliamentary debates to insist that visa and biometric enrolment must not be waived repeating security concerns. Home Office reactions to this massive public outpour of criticism remains to be seen.
If you are Ukrainian and need legal advice / immigration advice, the Ukraine Advice Project is offering free services to connect Ukrainian citizens in need with legal professionals. If you want to contact us directly, you can contact us here, call us on 020 8142 8211, or send us a question on WhatsApp.