Briefing: If not the Points-Based System, then what?
01/09/2022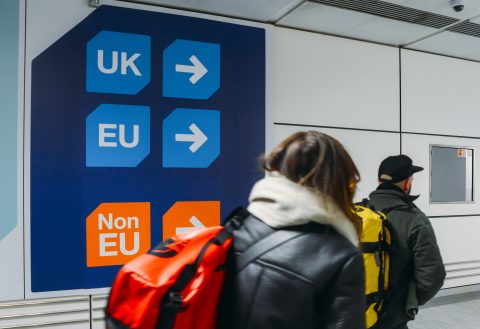 To live and work in the UK, everyone needs a work permit and an employment visa, unless they are a permanent resident, an Irish national or a British national. There are many types of work visas, depending on the length of your stay and the type of work you want to do. Some visas, such as student visas, permit working under certain conditions. The seven main categories of non-UK citizens who may be allowed to work in the UK are the following:
Points-Based System workers
Temporary Workers
Students and Graduates
Innovators and Start-ups
Global Talent
Ancestry visas
Visitors

We dealt with points-based system workers in our briefing two weeks ago. This week, we look at all the rest. So, let's get into the weeds.
Firstly, there are special visas for Temporary Work. These function in a similar fashion to the Skilled Worker and general worker routes we discussed in July to the extent that the prospective employer will need to obtain a sponsorship licence, and the worker must have received a certificate of sponsorship for a specific job hat was issued to them no more than three months before the date of application.
The Temporary Worker category is broken down into different subcategories, ranging from charity to religious workers, from international to seasonal workers. In summary, charity workers can get a temporary worker visa to come to the United Kingdom to do voluntary work and unpaid work for a charity. Creatives and Sportspeople can get a temporary work visa to work or perform as sports people, entertainers or creative artists. Religious workers can come to the United Kingdom to work as religious workers, performing non-pastoral duties. Note that people looking to fill roles which include preaching or pastoral work should consider applying for a Minister of Religion visa instead. Then there is a government authorised exchange visa, and in international agreement temporary work visa. The former is for people coming to the United Kingdom through approved schemes that aim to share knowledge, experience and best practice. The latter are people coming to the United Kingdom under contract to provide a service that is covered under international law. Finally, and quite importantly, there is a seasonal worker temporary visa which is the format that is used most often for fruit pickets, farm assistants, poultry workers, etc. These seasonal workers are a key part of the UK economy.
Depending on which subcategory one applies for visas can be valid for up to 6 to 24 months. Each subcategory has different requirements, which can be found on the Home Office website. All temporary workers must pay the Immigration Health Surcharge, at £624 per year per person, except if they are Seasonal Workers, who are exempt. They will also, as with general workers, need to prove that they can sustain themselves during their time in the UK, either through having lived in the UK previously by showing that they have funds of at least £1,270, that they have held for a period of 28 days.
Then, there are a number visa schemes for students and young people. Firstly, international students in the UK may be allowed to work, though they will generally be subject to conditions of work such as a limit on the amount of hours of work they an perform. Students cannot come to the UK to work as a primary activity unless it is linked to their studies. The conditions for additional part-time work unrelated to their studies are set out on their visa.
When students graduate from a UK institution, they are eligible to apply for the Graduate Route, which allows university graduates to stay in the UK for at least two years without a fixed job offer. For PhD students, the visa will last three years. For bachelors and masters students, the length of leave is two years. This cannot extended. The Graduate visa allows graduates to work without being tied to an employer; they can take up any employment they wish during that time, they can switch jobs, they can even be unemployed for a while. The application fee for the Graduate Route is £715, and in addition to that, Graduates will have to pay the immigration healthcare surcharge. Additionally, if a partner and children joined the student in the UK as 'dependants' on their Student visa or the old Tier 4 (General) student visa, they can apply to stay as dependants as on the student's Graduate visa.
For young people who did not study in the UK and still want to come work in the UK, there is another option: the Youth Mobility Scheme. The Youth Mobility Scheme allows a set amount of young people from certain nationalities to come to the UK for up to two years. To be eligible, the applicant must be under 30 years old, show that they have £2530 in savings, and be a national of one of the following nationalities Australia, Canada, Monaco, New Zealand, San Marino or Iceland. If they are from Hong Kong, Japan, South Korea or Taiwan, they may also qualify but they will first have to enter a lottery before they can apply for the visa. The application fee for a Youth Mobility visa is £259, and applicants will have to pay a reduced immigration health surcharge amount of £470 per year. The visa conditions are pretty flexible; visa holders can study (though for some course they will need to request additional certificates), work in most jobs, be self-employed, set up a company if they meet certain requirements, etc. In contrast, they cannot extend their visa, access public funds, or bring any family members or dependants with them.
The Graduate Route, Temporary Worker routes, or Student visas all allow visa holders to work in some shape or form, but they do not lead to a path to settlement in the UK. Other work visas (including the Skilled Worker Route), however, can lead to settlement.
For example, there are special visas for Innovators and Startups. You can apply for an Innovator visa if you meet three core conditions. Firstly, you want to set up and run an innovative business in the UK – it must be something that's different from anything else on the market. Secondly, your business or business idea has been endorsed by an approved body, also known as an endorsing body. Thirdly, you can show that your business idea is new, innovative and viable with potential for growth. This includes showing that you have enough investment funds if the business is a new business that you are setting up from scratch. In addition, applicants will have to show that they can speak, read, write and understand English, and of course pay the application fees of £1036. Applicants can bring dependants with them, at the same price per person, and pay the immigration healthcare surcharge for each applicant. The visa is usually for three years, and can be extended.
Then, we have the Start-up visa, for which the process is similar but a little more flexible. You can apply for a Start-up visa if you want to set up an innovative business in the UK, and the business idea is something that's different from anything else on the market. Applicants have to be endorsed as well, but not by one of the listed institutions as for the Innovator visa. Rather, the endorsement must come from either a UK higher education institution, or a business organisation with a history of supporting UK entrepreneurs. Applicants must also show that their idea is new, innovative and viable with potential for growth. The visa is valid for two years, it cannot be extended, and it does not lead to settlement. The application fees reflect these stricter visa terms, and are lower than for Innovators, at £378 per person.
Additionally, there is also the Global Talent Visa, tailored towards what the Home Office calls "leaders or potential leaders" in academia, research, arts and culture, or digital technology. For each of these fields, there are different ways of showing that you are a "leader in the field." The visa can be valid for up to five years, and can be extended. It allows visa holders to live, work, study, access benefits, etc. in the UK, and it is also a viable path to settlement. The requirements are that applicants must either have won an eligible award that proves their talent, or that they have been endorsed by a UK organization with expertise in your field.
There is also a visa called the "Ancestry Visa," to which those who are Commonwealth citizens, British overseas citizens, British overseas territories citizens and British nationals (overseas) can apply if one of their grandparents was born in the UK, the Channel Islands or the Isle of Man. The visa is valid for five years, and can lead to settlement. It allows visa holders to work, study and bring their partners or children to the UK. The work can be part-time, full-time, paid or voluntary – the visa is flexible. The cost for this visa application is £531.
Finally, some Visitors on a Visitor visa may be allowed to do certain limited types of work. Visitors can usually stay in the UK for up to six months, during which certain paid activities may be allowed. For example, Visitors are allowed to volunteer with a registered charity in the UK for up to 30 days. They are also allowed to use a Visitor visa to attend work-related meetings or interviews, to sign or negotiate contracts, deliver training or share knowledge with UK employees of the company they work for overseas, and other such things. The permitted activities are for employees that work for companies overseas, and usually temporary in nature.
If you have any questions regarding which work visa suits your needs, we can help you. You can contact us directly here, call us on 020 8142 8211, or send us a question on WhatsApp.