What happens when migrants are instrumentalized for political gain
24/11/2021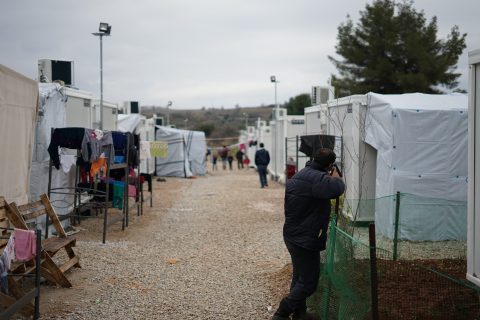 What happened?
Over the summer, thousands of migrants (estimates range from 5000 to 10000) arrived at the external borders of the EU through Belarus, near the Latvian, Polish and Lithuanian borders. They originated mostly from Syria, Iraq, Afghanistan and Yemen. In recent weeks, the amount of people appearing at the Polish-Belarusian border significantly increased.
International law prescribes that once an asylum seeker finds himself on European Union soil, they cannot be refused until their asylum claim has been processed and decided. Poland is a member state, and the migrants had been promised a way into Poland through Belarus through fake online ads. Belarus has been accused of being behind these ads to encourage the influx of migrants by granting tourist visas and then pushing them to the Polish border.
Upon landing in Minsk, the migrants paid a lot of money to drive to the border, where upon arrival, they found that they could not get into Poland; the borders are closed. 3000 to 4000 migrants amassed at the border in early November, including women and (very young) children. Polish authorities refused to let them in, and Belarusian authorities refused to do anything at all. They were stuck in no-man's-land, with no means of returning to Minsk or any other inhabited part of the country as there was no available transportation.
What are the circumstances like at the border?
As winter came, circumstances worsened. At least 9 people, including one child, have died whilst camping out at the border in recent weeks.
Poland on its part has implemented a state of emergency. During the worst of the crisis, they did not let journalists, NGOs or doctors near to border, leaving the migrants without any external help. Videos of Polish border guards using tear gas and water cannons to push back migrants have gone viral — pushbacks that are illegal under international law.
Why would Belarus target the EU in this way?
Migration is a touchy subject for the EU. Member States disagree on how to handle migratory and refugee issues, and have often come head-to-head when trying to strike a compromise. At the height of the Syrian civil war in 2015, when millions of Syrian refugees were desperately fleeing their homes, this manifested in a gridlocked Union. Individual states took divergent and independent action, undermining the EU's principles of cooperation and shared responsibility, as well as severely affecting the bloc's legitimacy. Germany at the time decided to open its borders and accepted over 800 000 Syrian refugees into their country, more than any other Member State, whilst countries like Hungary and Poland took a hardline anti-immigration stance by building walls and pushing back those migrants who showed up at their borders.
In other words, migration is one of the EU's weak spots. President Lukashenko is backed by Putin, and together, they have an interest in making the EU seem weak. Lukashenko especially has not been on good terms with the EU since they imposed sanctions on his regime after the 2020 elections, which are widely believed to have been fraudulent.
What has been the reaction in the EU?
EU President Charles Michel has emphasised the need to stand firm against Belarus for exacerbating and, some may say, manufacturing unrest at the border. He emphasised the need to react against this attempted manipulation of the EU through additional sanctions and solidarity with Poland. At a press conference in Brussels, EU foreign affairs chief Josep Borrell confirmed that sanctions will be imposed on Belarus and other actors involved. The humanitarian crisis and its human victims was strangely absent from Michel's November 10 speech on the matter; it has taken another week for the EU to send rescue packages with blankets and food.
Where are the migrants now?
On November 17, the first reports of migrants being moved came out, as Belarus put some of them on buses to a nearby warehouse. The warehouse is a radical improvement on the freezing temperature and unbearable living conditions that existed when the migrants were left to their own devices in open air, it does not say anything about what is next for them. Belarus has not clarified what they plan on doing with them upon processing; the chances of them actually getting to Europe as they were initially promised are slim. Belarus may simply deport them back to their countries of origins – meaning their trip, which cost thousands of pounds and in a lot of cases, family savings to escape ravaged and impossible home situations, never-mind illness and death, has all been for nothing.
What does the UK have to do with this?
President Lukashenko's instrumentalisation of people in desperate need and want of a new and better life is an extreme example of how we often use human beings and their suffering for political gain. The UK is no longer a part of the EU, and so in a way far removed from the Polish-Belarusian border. But parallels with the UK's external borders are easy to make; the Calais jungle, where thousands of people wait to cross the channel is not a freezing forest in Belarus, but the migrants stuck there find themselves at a similar impasse. The UK's new immigration system (the Points-Based System) cracks down on asylum seekers, and the government is working hard to create an illusion of tough borders and strict migration, not unlike the EU, whilst insisting they have the migrants' best interests at heart. The instrumentalisation of human life may be less explicit, but it is just as present.